How to Choose the Best Coaching Institute For NEET in Sikar
If you are on a mission to crack your NEET exam with a high rank then you will definitely go to take coaching from a good institute. If you live in Sikar and are about to select a coaching center then you might be thinking "how to choose the best coaching center near you?".
We are here to help you out by sharing the simple steps that will help you in choosing the right place for your NEET preparation.
#1 Best Medical faculty for NEET in Sikar
Yes, you should know the name of the best faculty in Sikar. Once, you know the name of the top medical faculty who are giving coaching to NEET students then you will find the place where they teach.
Here, we are sharing the best faculty for NEET in Sikar with their institute's names:
We have three faculty in Sikar who are considered the top Physics faculty:
Madan Sir (Matrix NEET Division)
ShankarSir (Matrix NEET Division)
Pramod Chaudhary (Allen Sikar)
We have five faculty in Sikar who is considered the top Chemistry faculty:
Maan Sir (Matrix NEET Division)
Pradeep Budania Sir (GCI Sikar)
Surendra Saharan Sir (Allen Sikar)
Narender Bissau Sir (Matrix NEET Division)
Ramchandra Sir (CLC SIkar)
We have three Botony & Zoology Faculty in Sikar:
Arihant Jain Sir (Matrix NEET Division)
Yogendra Jain Sir (GCI Sikar)
Abhinav Sir (Matrix NEET Division)
#2 Good Reviews and Ratings
You should check their reviews and ratings before choosing any coaching institute. If you will check these then it will give you a clear-cut idea about the coaching center and what people have experienced with them. Also, don't read 1-2 reviews check at least 20 reviews.
#3 Visit the NEET coaching center near you
You should visit each coaching center that you have shortlisted. While visiting you should talk to faculty and staff about your doubts. You should not hesitate to ask any question that you have in your mind because it's a matter of your or your child's future. You should check classrooms and their teaching method.
Ask them some questions that we have listed below:
How long do they conduct doubt sessions?
Do they offer test series or not?
What is their teaching methodology?
Do they consider all students the same?
Do they always clear the doubts of every student on time?
How do they teach the weak students and average students?
Do they offer a mobile application to practice?
#4 Activities
You should also check whether the coaching center is also focusing on activities that enhance students' moods and minds. If a coaching institute is taking care of its students by conducting good activities while studying then it is a good sign of a good institute.
Top 5 Best Institutes in Sikar For NEET preparation 2022-23
There are many coaching institutes that are offering NEET coaching. However, not all institutes are the same and fit your needs. Here, we have come up with the best NEET coaching institutes in Sikar that are offering the best medical PMT coaching.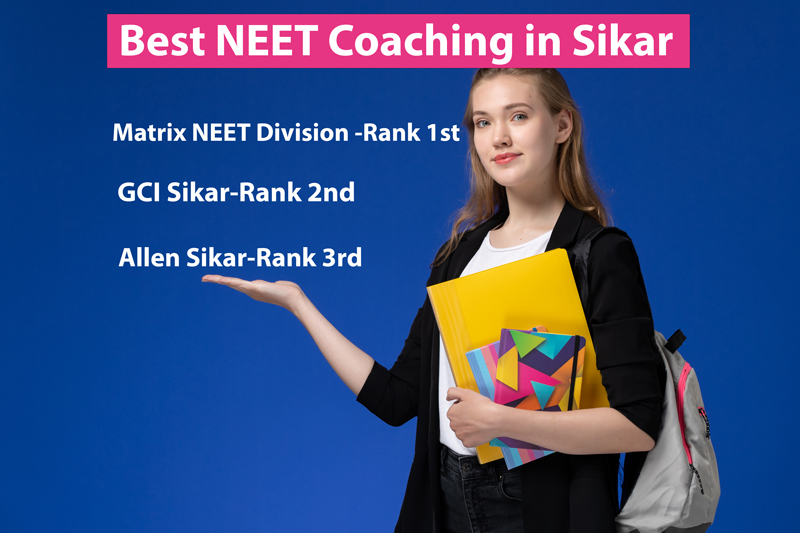 Top NEET Coaching Institute in Sikar
These all institutes are good and if you want to know the ranking of each NEET institute in Sikar then check our reviewed blog article here.
Matrix NEET Division: It is a good institute for NEET coaching. They have the best NEET medical faculty in Sikar. They hold 1st position in NEET coaching. If you want to get coaching from the top medical faculty then you may choose this institute. All of its faculty has 12+ years of experience.
GCI Sikar: It is also known as Gurukripa Career Institute and it is also one of the best NEET coachings in Sikar that holds the 2nd position. They have good faculty and all have more than 7+ years of experience.
Allen Sikar: Allen Career Institute is one of the best institutes that holds the 3rd position for NEET coaching in Sikar. Allen Sikar has average faculty for their medical students. Their faculty have 5+ years of experience.
PCP Sikar: This institute offers a great facility to its students, they hold the 4th position for NEET coaching in Sikar. PCP is known for its different branches. They have good faculty that has more than 5+ years of experience in teaching.
CLC Sikar: CLC Sikar is known as Career Line Coaching, and it is known for its discipline. They have average faculty for NEET students. and holds the 5th position in NEET coaching in Sikar.