CLC Sikar- Career Line Coaching
CLC has its main branch in Sikar, which is also known as Career Line Coaching (CLC Sikar). They offer IIT/JEE/NEET coaching to engineers and medical aspirants. Whether you want to join CLC (Career Line Coaching) or any good institute for your IIT-JEE Main and JEE Advanced coaching or NEET preparation-Doesn't matter!
You must be looking for an honest review about your shortlisted one i.e. CLC Sikar.
In this article, we have gathered all information about CLC Sikar and also what people (students/parents) think about them, and much more.
---
Basic Details of CLC Sikar : Career Line Coaching
Let us start with the basic details of CLC. However, if you already know it then skip it and move to the advanced section where we have shared a detailed review of CLC – Career Line Coaching Sikar Branch.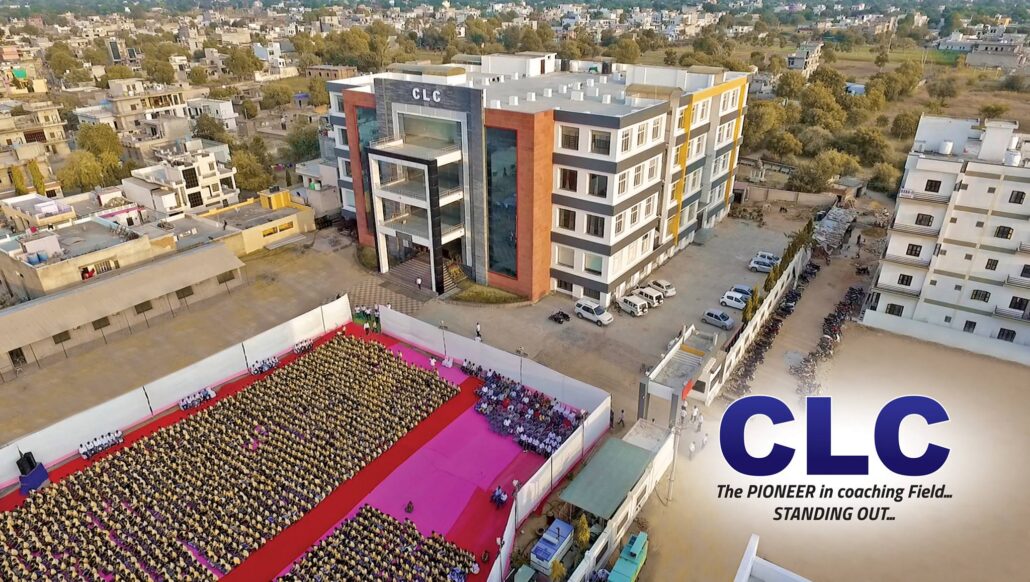 ---
Institute Name: CLC Sikar
CLC full form Sikar: Career Line Coaching Sikar
Website: https://www.clcparivar.in/
Email: clcsikar2007@gmail.com | info@clcparivar.in
Contact Number: 01572-255-500, 94140-36555
Chairman: Prem Singh Choudhary
Director: Er. Shrawan Choudhary
Managing Director: Er. Naresh Choudhary
CEO: Er. Sahil Choudhary
---
Where is CLC Career Line Coaching in Sikar?
Here is the address of CLC – Career Line Coaching of Sikar; "KARMASTHALI" Pandit Harinath Chaturvedi Marg Piprali Road, Sikar, Rajasthan, 332001.
Who is the owner of CLC Sikar?
Er. Shravan Choudhary is the owner of CLC. He is the Director of CLC and established the CLC Institute in 1996 Sikar (Rajasthan).
Detailed Review of CLC (Career Line Coaching )
You are the best! If you came across this section then you are ready to do your homework before making any decision for your child or yourself.
It is a smart move to have in-depth knowledge of the shortlisted institute (i.e. CLC Sikar).
If we will talk about this institute, then not only do the parents need to know more about the basic details of CLC while getting admission in their Sikar Branch. But they also want a detailed and honest review about CLC Sikar(Career Line Coaching) in one place.
Read our points one by one that we have collected by surveying parents and students.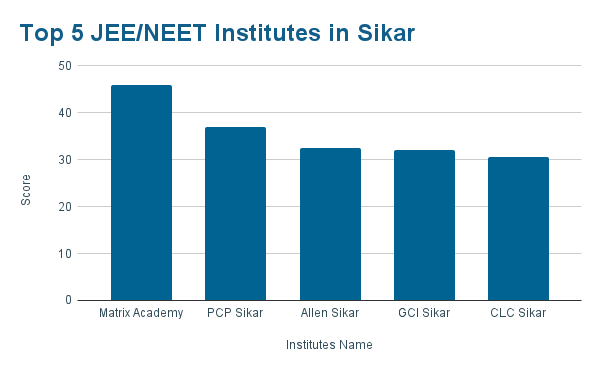 How is CLC?
Overall, if we talk about what kind of institute CLC is, then we have come to know from our survey some points that will give students and parents a clear picture of this institute (Career Line Coaching); Let's check out those points one by one below:
CLC Motivational Speeches:
Yes, CLC Sikar is well known for the motivational speeches of their director i.e ER Shrawan Choudhary-It is a good sign of a good institute. But we also cannot deny that theory becomes useless if every time only theory is studied and not practiced.
Bring New Things Up:
It is no secret that the director of CLC is always full of energy and he is a person because of whom CLC is known. He is the one who always tries new random things up in CLC.
---
However, experts believes that bringing new things can sometimes confuse students due to which they may loose focus .

— Sikar Education Hub
---
Faculty for CLCians
The quality of CLC faculties is comparatively average as compared to other institutes which have very well-qualified faculty for their students.
CLC Hostel Facility and Fees
Career Line Coaching also provides hostel facilities to its students in Sikar. The CLC hostel fee is approx. 40,000 to 50,000/ per annum which is comparatively very less if we compare the fees of other institutes. However, at the same time if we check the hostel facilities that they are offering to their students(Hostels at CLC in Sikar)- it can be said that the fees of CLC hostel facilities are very high.
In short; CLC Sikar offers basic facilities in their hostel to CLCians.
CLCians – Faculty Ratio
They have a lot of students, mostly all the students are from nearby villages of Sikar. And, if we talk about their teacher's ratio, they have also a good ratio of teachers for their CLCians.
Explore"Best JEE Coachings in Sikar":
Is CLC good for NEET/IIT/JEE Coaching?
Yes, if you are stressed during exam preparation and you need an institute that will motivate you, then CLC in Sikar would be a good option to choose. As we have mentioned on the above points that they motivate their students a lot. But, if you are looking for an institute that can help you crack JEE/NEET exam by clearing all the concepts then you can also go for other high-ranking coaching institutes in Sikar.
Let's take a look at the below table where we have scored them according to the students/parents:
How is CLC classroom?
CLC Sikar Classrooms are fine, it can be said that they are neither too bad nor too special. Their classrooms also have all the same basic facilities that other institutes in Sikar are offering their students like a clean room, whiteboard, projectors, seating arrangement, and much more.
CLC Sikar Fees 2022-2023
Here, we have shared CLC Fees Chart i.e. 2022-2023 Sikar. The fee structure of CLC for NEET / JEE / Foundation / Target and XI, XII Foundation Coaching in Sikar is starting from Rs.96,000 inclusive of GST.
Is there any branch of CLC other than Sikar?
Yes, CLC has 5 more branches in India apart from CLC in Sikar.
We have shared all the branches of CLC in the below image;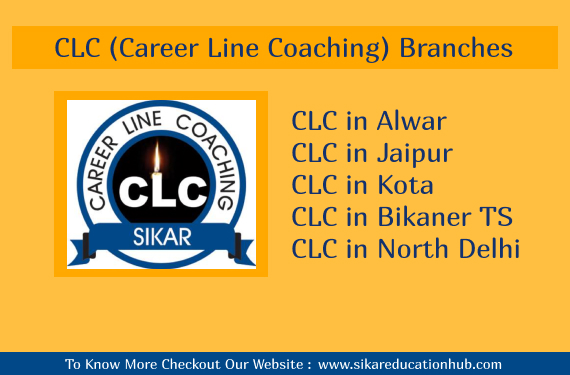 ---
CLC Alwar Center
Plot No. 966, Vijay Nagar, Jail Circle, Alwar
Ph.: 0144-2730388 • Mob.: 99832-37886
CLC Jaipur TS Center
F-14, Ram Path, Shyam Nagar, New Sanganer Road, Sodala, Jaipur
Mob.: 92519-84714
CLC Bikaner TS Center
Youth Library, LNC Building 8-A-41, J.N. Vyas Colony, Jaipur
Mob.: 98291-56336
CLC Kota TS Center
Modi College, Dada Badi, Kota
Mobi.: 72300-71214
CLC BURARI, DELHI TS Center
Safalta Career Institute Private Limited 326, Third Floor, Village, Burari, North Delhi (110084)
Mob. No.: 91499-44002
---
How many schools does CLC run?
Apart from the CLC institute which we have shared above. CLC also runs 2 schools (RBSE and CBSE); One is in Sikar i.e. KVM (Krishna Vidya Mandir) and the other i.e. BR. Educational Institution Senior Secondary School Chelasi, Salasar – Sikar Road, Sikar, Rajasthan.
Conclusion
If you want to join CLC in Sikar for JEE/NEET/IIT coaching – Read the complete review about it. In this, we have shared all the details of CLC (Career Line Coaching of Sikar) from address, contact number, board of directors, faculty qualifications, and more.
Our goal that we can help the students and their parents to choose the right option of education in Sikar, Rajasthan.
We are very glad that you read our full article, we hope you found our article helpful.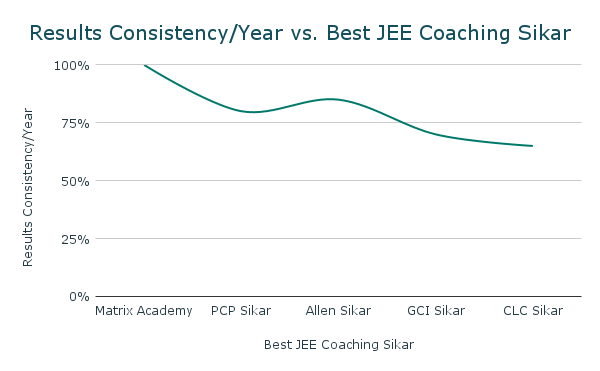 Explore more "Top Institutes in Sikar for JEE and NEET Prepration"