Best JEE Coachings in Sikar [2023]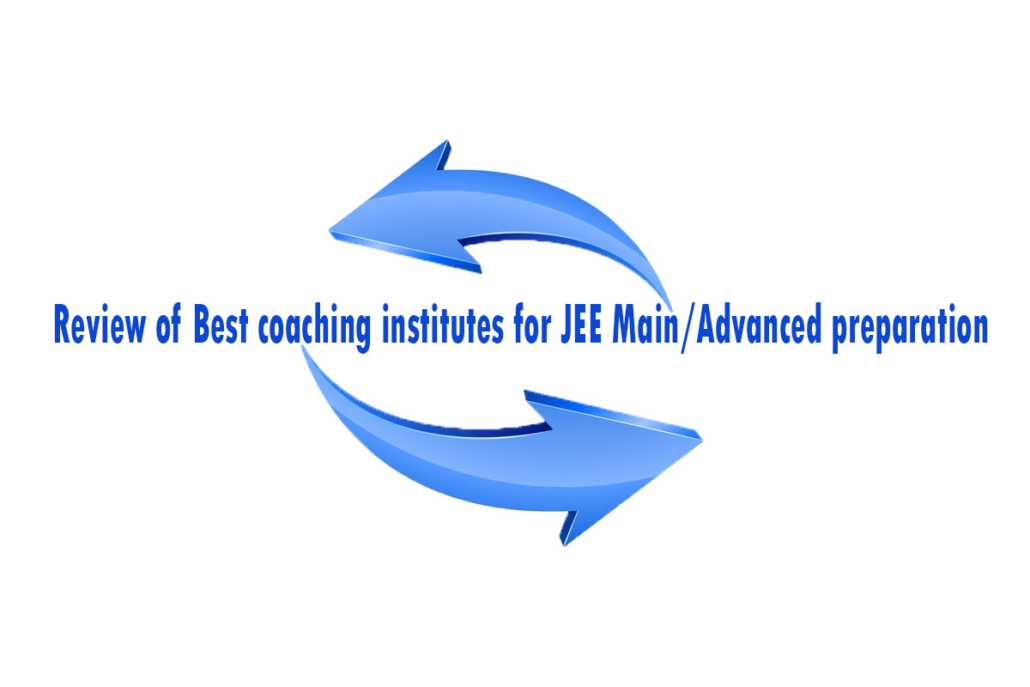 Want to know more about the best JEE coachings in Sikar? You are at the right place.
If you are looking to find out which JEE coaching in Sikar is best for you, first you'll need some information about your coaching institute options
.
Online reviews/surveys have become much essential over the last few months, as students have been unable to attend classrooms due to Covid-19.
Here, we are sharing peer-to-peer reviews so that prospective students will get invaluable insights into various aspects of academic guidance for JEE preparations. In this way, they can easily understand which JEE coachings in Sikar would be right for them.
So, let's know about Sikar and the best options for JEE-IIT classes in Sikar, Rajasthan.
Note: This article is based on our interaction with 50+ students/parents/faculties and careful evaluation of the last 10 years results in the IIT-JEE exam from Sikar. If you find any discrepancies in what we are reporting, please drop us an email and we will rectify it. Please note that if you incur any loss due to your actions based on this article, Sikareducationhub media will not be responsible for it. Hence, you are advised to do your own due diligence before taking any decision.
Sikar is an IIT JEE coaching Market 
It is not hidden from anyone that Sikar used to be on the list of cities that have faced many ups and downs
in terms of
educational infrastructure
. But, it would not be wrong to say that there has been a drastic change in the Sikar coaching market in these last years. Because of this Sikar is also known as the second-largest IIT/JEE coaching hub after Kota. 
Over these years Sikar has given tremendous results, and not only the students of Sikar are joining the academies here, but many students are taking admissions here from various other states as well
.


How the coaching market has grown in Sikar over years?
Sikar's coaching industry started around the early 2000s; however, it has grown at a tremendous pace since 2010. Around 2012 it started to grow
very quickly
. We can't really elaborate on how the coaching market has grown over years with one word. Behind the success of the Sikar coaching industry, there are tons of reasons.
Sikar's institutes have the best teachers in India and many of their faculties are IITians and the teachers who are non-IITians are also experts in their subjects
. What else, we have heard that some of the institutes have management from top IIMs of the country. Overall, we can say that Sikar institutions are not behind anyone at an All-India level when it comes to IIT coaching.
Besides, the best JEE coaching institutes in Sikar offer a wonderful study environment. They allow their students to learn new technologies and techniques.


Major IIT JEE coaching institutes in Sikar 
If we talk about numbers then you will find 10+ institutes in Sikar that are helping the students with JEE preparations. It means no shortage of choice. However, Below are the 6 best JEE academies in Sikar, according to our survey.
List of top-6 JEE coaching centers in Sikar as per our analysis
The six institutes that we mentioned above, are the best among all institutes in Sikar.
But we are comparing these institutions through this article so that you can get a clear picture of each institute's expertise
.
Besides, it will also help you in deciding which JEE coaching institute will be good for your studies in Sikar
.
Let's Start: Comparison of JEE coachings in Sikar
Step-1: We conducted a survey and took feedback from students, and parents about their experience with management, faculties
Step-2: Detailed analysis of the results of the past few 5 years
Step-3: Analysis of stability of faculties
Step-4: Experience study of the management for IIT coaching
Step-5: Student feedback regarding their care
Finally,
we compared and compiled other dimensions of IIT/JEE coaching in Sikar to make it more comprehensive and understandable
. Below are the 6 parameters that we finalized to rank these institutes. 
In this parameter, we analyzed how the
overall
management of these institutes operates. We also looked at their directors' profiles. If the directors have experience studying at IIT then obviously they have cracked IIT so that's a positive. We also looked at how dedicated the management is to JEE preparation. We believe that if the management is focused on a few things then the results would be better. And, if the management is doing 5 different things, then it won't be possible for the management to focus 100% on JEE Preparation.


Without the best faculty members, no coaching center can rank among the best.
For this parameter, we checked faculty member profiles and also asked questions about their students
. Also, we believe both qualification and experience are important. If the faculties are from IIT, then it means that they themselves have cracked IITs, which is a good thing. Hence, it is also important to understand in which category they have cracked the IITs. Cracking IITs in the General category is very different from clearing it in SC/ST categories as the cut-offs are low.


The result is another important parameter for ranking the coaching centers. We looked at the last 3 years' results and compared them with other institutes. We believe getting a top rank for just one student is not enough. What matters most is the selection ratio.
Also, because we are comparing the coachings in Sikar, it doesn't matter how many selections these coachings have from other institutes outside Sikar. What matters is what is the quality of results in Sikar. Good results in Bombay or Jaipur are useless for Sikar because neither those students nor those teachers would be coming to Sikar. 


Some institutes may give better results in a year but in another, they may stay behind other coaching centers
. For accurate ranking, we also analyzed the consistency of good results. Good results in a particular year can be a fluke. They can also happen because a few very good students took admissions in that school. However, good results every year will show that the institute is indeed good in quality. 


In today's modern era it is important that the coaching centers have the best classroom environments with all the digital equipment for the best learning experience
. Besides, w
e looked at the technological infrastructure of these institutes to compare with each other
. As part of this study, we looked at the quality of video lectures, quality of the apps, online presence, and so on… In these aspects, quality is important because these days everyone has video lectures and apps.


Everyone wants that their children or siblings get the best education care that they need
. We looked at different aspects of students' education as well as personal care.


As per our analysis, this is how the above coaching institutes rank.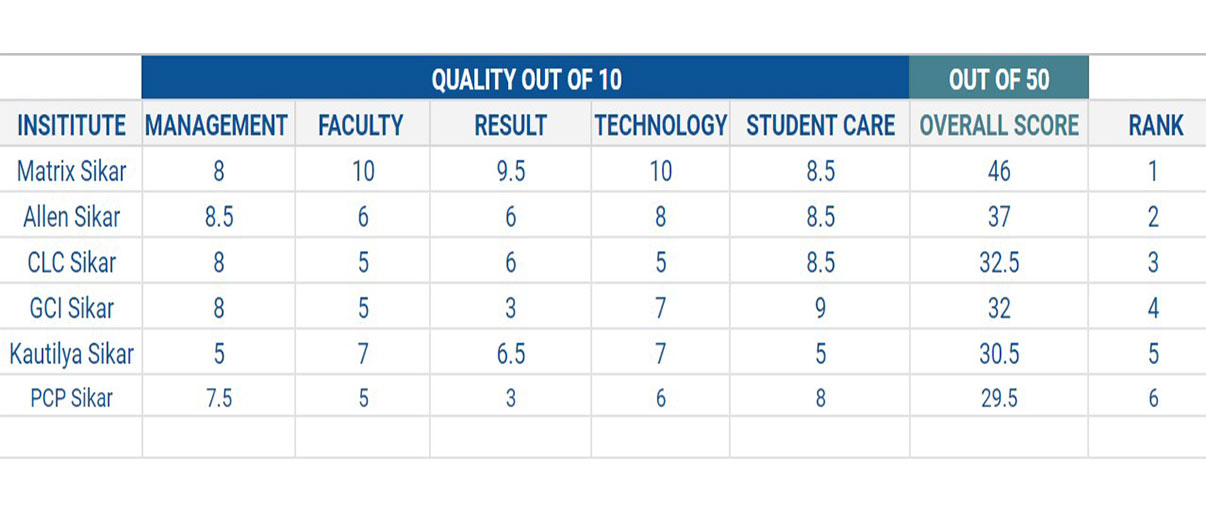 Top IIT JEE Coachings Institutes
As discussed earlier,  ALLEN Sikar, CLC, GCI, Kautilya, and PCP, and MATRIX JEE Academy are the only coachings that we have compared in Sikar.
Our analysis suggests that MATRIX is a clear leader in JEE coaching in Sikar while ALLEN is a distant second!! The rest are not in the league of MATRIX and ALLEN. ALLEN is definitely the largest coaching institute at the PAN India level, with many top ranks at all India levels. In fact, they have given All India rank-1 also many times. But from Sikar, their best ranks are always behind MATRIX.  ALLEN also has the highest no. of faculty members at all Indian levels but in Sikar, Matrix JEE academy has more faculty members than them.
In Sikar MATRIX JEE Academy definitely has the most qualified and experienced faculty with a long legacy of best results in Sikar. If compared with the Sikar centre of ALLEN, MATRIX faculty is not just better but students believe they are far superior to any teachers at ALLEN Sikar.
Many of the top faculties at MATRIX are graduates from top IITs and have cracked the IIT JEE exam with top ranks in the General category. In addition, all of them also have 10+ years of experience teaching for IITs, so that's great. Also, the system that MATRIX has is wonderful and has sent 1000+ students to top IITs from Sikar itself.

In terms of credibility also,
MATRIX scores better! They do not show any centre results, any test series results, etc. and all their results are full year-long classroom results. This is primarily because all their directors and leading faculty members are from top IITs. They have dedicated their lives to helping students achieve their dreams and making MATRIX – the best JEE Coaching center.
One great thing about MATRIX is the fact that all their top teachers are also directors. Therefore, you can be assured of stability as even if there is faculty poaching, the top-10 teachers are going to stay at MATRIX, and hence, MATRIX becomes one of the most stable JEE coachings in Sikar.
More options for JEE;
CLC is also an okay institute with an average score across all parameters. CLC is also the oldest coaching institute in Sikar. In fact, many people believe that the coaching industry in Sikar is started by CLC itself. CLC has made some improvement over the last few years after the inclusion of next-generation in the core team but they are still way behind MATRIX and ALLEN.
GCI is predominantly medical coaching now with very few JEE students. They also don't have any good JEE teachers left. They have stopped focusing on IITs now and don't even publish IIT results in the newspaper anymore.
While you will see many PCP advertisements when you visit Sikar, the coaching is average. Prince education hub is the largest education group in Sikar, but they have little experience in JEE coaching.
Most of their results are from the Kota test series and hence you should confirm their results from some of their students before making a decision based on the advertisement. Furthermore, their directions are focused on so many different things that we believe they cannot give proper attention to JEE preparation.
Kautilya was promising coaching but because of bad management, they have gone very down. We didn't hear too many good things about them from a lot of people.
From the above ranking;
It is also clear that if you don't like MATRIX for any reason, ALLEN and CLC are the next best option. However, our advice would be to stay away from Kautilya and PCP as they have very shady records and also they don't have a good reputation in the IIT coaching industry. 
Conclusion
As you can see we have shared six institutes that are best in Sikar for JEE coaching.
They are not the top-rated IIT/JEE Coachings in Sikar. However, they are better by a margin compared to other coaching institutes
.
Also, this should
be noted
that they are not
just
overall
best, but they are best on almost all dimensions when it comes to IIT Coaching in Sikar
.
Before joining any JEE institute in Sikar, Rajasthan, please consider one of the institutes given above
.
Also, you can share your personal experience of your JEE journey and support future students by writing a review in the comment section below
.
Hope our detailed review and survey will help you with your or your loved one's bright future.