Top English-Medium Residential Schools in Sikar, Rajasthan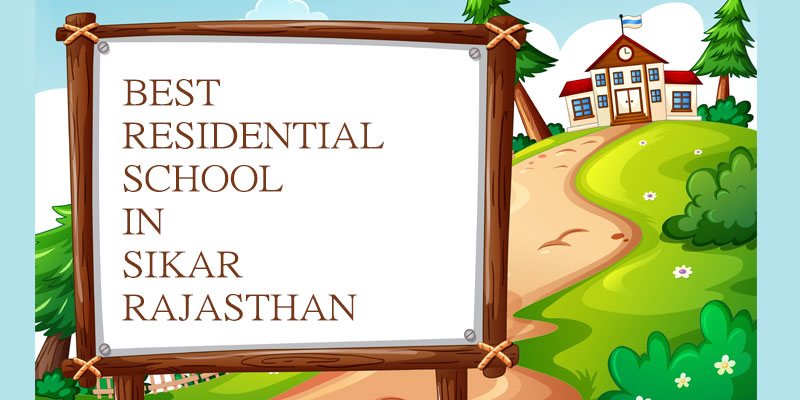 Residential schools/boarding schools are like a second home for a child. Nowadays, parents are preferring residential schools more than non-residential schools. Or, we can say the ancient time is now being trendy again where parents send their children away from home to not only gain academic knowledge but to make them independent, mature, and better versions of themselves. Here, we have compiled a list of the best residential schools to make strong decisions on choosing the top residential school in Sikar, Rajasthan.
So, if you want to know which Residential school will be best in Sikar for my daughter/son;
Check out our detailed review on the top list of the best English-medium residential schools in Sikar.
Please Note: Our list doesn't have included any Hindi-medium residential schools because we don't think they are a good fit for your child at this age and time.
List of Best English Medium Residential schools in Sikar
Choosing the best yet safe second home for your child may need much time and involve several steps. Luckily, the Internet made the process easy for parents. By reading the right guide on how to choose the best boarding school nearby.
According to the survey we took from local folks, parents, and students. We are sharing the list of the top 5 best residential schools in Sikar. These schools are English medium RBSE, & CBSE affiliated schools. Let's check out all schools one by one:
List of top-5 Residential schools in Sikar as per our analysis
Comparison of Top Residential schools in Sikar
We have included 5 residential schools in our top list. Hence, we have shared our detailed review of these 5 schools only because they are the best among all of them.
Before moving ahead, it is important to understand that every school is different and similarly; they have different things to offer to their students.
You need to know each school's teaching method, faculty, management, technology details & more to know how a school is different from the other one.
Hence, our detailed review of the residential schools of Sikar is based on the following dimensions. Let's check these dimensions that we considered while ranking top residential schools in Sikar.
Quality of Management
In this; we have checked everything about the above given residential schools' management. The management points we have checked during the survey are given below:
Education background of each member of school management, teachers, & other staff
Their behaviour/communication with parents and students
Checked whether school members are wearing professional attitude towards everyone
Analyzed their teaching, handling, disciplane, mentoring methods
+More…
Quality of Accommodation
In this parameter, we have checked what kind of accommodation the above Sikar's boarding schools are offering to their students. Therefore, we analyzed the below points in these parameters:
Food Quality
Student Care
Cleanliness(Covid19 compliances)
Hostel Rooms Size
Quality of Academic Programs
In the academic programs we have examined the following metrics:
Are these schools helping their students to build their concept/foundation?
Children's brainstorming activity is provided here, if yes, how many activities in a month?
Whether or not regular tests were conducted
Are they running any pre-foundation / science programs for their students?
Do teachers/management here prepare their students to participate in any competitive exam like Olympiad, NTSE, or more?
Sports Activities & Opportunities
Yes, sports, game activities, extracurricular activities, and other activities are also important parts of student life that should not be ignored. Hence, we have included this point to give a better view of these schools. In this, we have checked that how these schools offering sports facilities to their students.
Use of technology
Technology is one of those things that become an important part of every aspect of human life and especially for learning & growth. Hence, we have included this point in our parameters to determine which school is the best residential school in Sikar. Here, we have looked at what kind of technology they are using as a tool to teach their students. Because it is very important for schools to be in line with the latest advancements so that all students are updated with technological trends.
Results Quality
Results quality is a point that should also not be ignored. Hence, we have checked the results of every residential school carefully to ensure their result stability. Because we know how important is to check result quality! This way you can easily determine which school is paying good attention to its students and how hard their teachers are working on them.
As per our analysis, this is how the above RBSE schools rank.
A brief discussion on the best Residential schools of Sikar:
First of all, we talk about Marix High School which comes on the first rank in the list of the best modern residential schools of Sikar, Rajasthan. MHS has the most experienced faculty team in their schools. They have great stability in their results which makes them different from others. The hostel facility is also modern, and very clean. MHS offers great care to each student that clearly shows they know how important a student needs to feel like a home in his/her residential school. We have observed that they are offering a great package of facilities within the affordable hostel fee structure. Besides, their tremendous results have rattled the other schools of the RBSE & CBSE boards in a very short span of time.
MHS school is famous for its compulsory pre-foundation program and its results. Their students are not even doing great in their board exams but students are also getting great achievement in their competitive examinations such as NTSE stage-1, stage-3, IJSO, Pre-RMO, NMTC, & more.
If we talk about our second-ranked residential school i.e. Prince School in Sikar. The name "Prince" itself is known for its branches (apart from RBSE, CBSE schools) such as Polytechnic, NDA, B.Ed., Defence Academy, IIT / JEE/NEET Institutions, and more. But, if we talk about their school; Prince School also has a good faculty team in their schools. They offer average hostel facilities to their students. Prince hostel fee structure is quite high as compared to the facilities they are offering to their students. Classrooms are good and clean, and their teachers are using good technology as a learning tool.
However, if we talk about the stability of Prince Schools' results in their boards, and competitive examinations (NTSE, Olympiads, etc.) they have failed to maintain good stability in their results. Therefore, we can say that they are sometimes receiving good success stories and are sometimes missed by getting good results (especially for the last few years Prince school is not able to achieve much).
Now,
If you are looking for a green view home for your child then you may choose Swami Keshwanand school. Because they have really beautiful green view campus. Swami Keshwanand School is really good but this school is situated some miles away from Sikar.
Overall, their result is average and the hostel facility is also good but the campus greenery is the best thing about this school.
Other options;
Navjeevan School is also one of the best boarding schools in Sikar. We have given this school 4th rank in our list because Navjeevan schools give less attention to their students. Besides, they have good classrooms, a nice hostel facility, a good fee structure, and a good faculty team.
In terms of results, Navjeevan has also given many good results, but yes there is no strong consistency in their results. They were once known as one of the best RBSE English-medium schools in Sikar during the period of 2015-16. But, over the years, the strength of his students has reduced considerably, we can not give any specific reason why many students leave this school and join other schools.
And,
Bhartiya Public School Sikar is also a residential school that offers great hostel facilities, good academic education but we have given this school rank 5th because all of their facilities are average, not up to the mark, and not too bad. If you are looking for an average residential school in Sikar for your child then you may choose this.
Conclusion
Parents shouldn't ignore the above points while selecting the best residential school in Sikar for their child. If you got some final names on your bucket list. Make sure you are requesting a free demo from the list of best residential schools in Sikar to see how they work. See, you should get an actual view of the school to get the real view. Also, don't forget to measure all the given dimensions during the touring.
However, if you wish to make any changes in this article or disagree with any point, we love to hear your opinion in commenting section. Besides, if you have any doubt feel free to ask any query by writing it in the comment section below.
We hope our detailed review and this school list will help you in making the right choice.